Moderate orthodontic treatment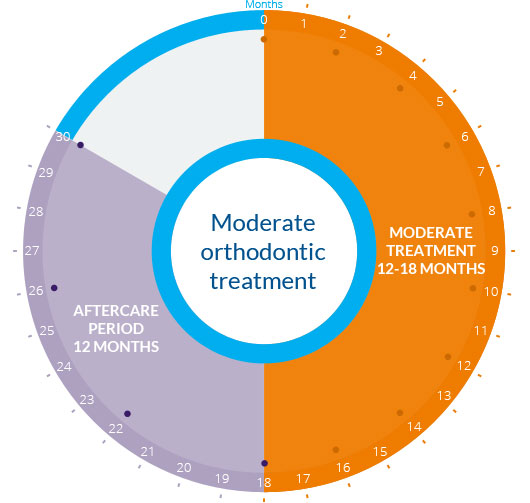 The 3 STAGES of your Moderate orthodontic treatment process
Stage 1 - Dental Problem
Understanding the severity of your dental problem is important in helping you agree to a suitable treatment plan.
To view an image of a typical Moderately Severe dental difficulty, click here. For a broader understanding of different types of difficulties commonly seen, click here to view videos of Spacing, Crowding, Overbite, Open Bite, Prominent and Underbite.
Stage 2 - Treatment Timeline
Your timeline of treatment for Moderate difficulties is marked on your OrthoMap to the left. See below for explanation.
Initial Consultation is FREE
Week 1: Exam/X-ray
Week 2-4: Impressioning or extraction
Week 4-6: Start treatment
12-18 months: Finish treatment
0-18 months: Maximum treatment time from initial consultation
12 months: Aftercare starts from finish of treatment
30 months: Total maximum treatment time including Aftercare
During your treatment process there are appointments every 8 weeks.
Within your Aftercare time there is a minimum of 3 appointments.
Stage 3 - Options & Solutions
Knowing the option of braces suitable for you make choosing your solution easy.
Types of braces available for Moderate orthodontic treatment:
Please click images below to watch the videos.
Metal, or fixed braces, are small, metal braces bonded on the front of the tooth and joined together with fine, metal wires. These are often referred to as train tracks and are the most common type of braces worn.
Invisalign are innovative, almost invisible aligners treatment used to correct mild to complex teeth straightening issues. Ortho.ie are very well experienced in providing Invisalign treatments and offer one of the most competitive prices in Ireland.
Lingual Braces
Lingual/Inside braces Lingual braces are fixed brackets that are bonded behind the teeth. The main benefit of these braces is they are almost invisible to others when you speak or smile.
Six Month Smiles
Six month smile braces is an innovative teeth straightening solution that focuses on the front 6 teeth. They use clear and discreet braces to move teeth into their correct alignment. A big advantage of this type of braces is treatment time is considerably reduced.
NOTE: Six months braces are only suitable for a small amount of patients where the bite is not a problem (approximately 5%). Your Orthodontist specialist will advise if this option is suitable for you.
| Moderate | Upper OR Lower Teeth / One Arch | Upper AND Lower Teeth / Both Arches | |
| --- | --- | --- | --- |
| Braces | from €3200 | from €3500 | |
| Invisalign | from €2700 | from €3000 | |
Examples of treatment Payment plans
| Moderate | Initial Payment | Months | Installment |
| --- | --- | --- | --- |
| Braces | from €1000 | 16 | €137.50 |
| Invisalign | from €1400 | 10 | €130.00 |
See full Pricelist. Tax relief is available at the standard rate allowing you to claim back 20% of your treatment cost.
Meet the Team / Contact Us